TOURS & APPEARANCES : The lucky bastards who had the privilege of seeing Kitchens of Distinction live
1992:
October 7: St. Cajetans, Denver Colorado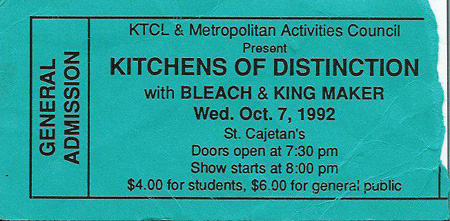 Thanks to B. Kiefer packetsdontlie@mac.com for the ticket stub and this info:
> i saw kod in denver colorado. it was a show where they were the
> headliner supported by bleach and kingmaker. i believe at the time,
> bleach may have signed to 4ad (or had some 4ad hype about them).
> kingmaker was awful and bleach was disappointing. however kod was
> gorgeous.
>
> the show was at saint cajetans. you can google the name for some
> local history, but short story is that this is a mission style
> catholic church in the middle of the auraria campus. this campus is a
> shared site for several colleges - metropolitan state college, cu
> denver and auraria. i had never seen a show at cajetans and have
> never seen a show advertised there since. i have no idea if the
> church is still being used. i do recall thinking that it looked
> possible. there were no pews, but rod iron candle holders lined the
> side walls. the stage was where the alter sat. it was a delightful
> venue. when kod took the stage, there were probably 200+ people in
> the church. i remember standing outside waiting for the doors to
> open. there was no alcohol as i recall. it was bitterly cold. not
> minnesota cold, not like standing outside of 7th street/1rst avenue,
> but cold for colorado. i had gone with a few friends and met up with
> some more of the scenesters. most of the people i knew had more
> interest in seeing kingmaker. i have no idea why.
>
> the show was 7 october 1992. i'll send you a scan of my ticket stub
> when i get finished with all of the file copying.
>
> i don't have a set list and being that the 10th year anniversary of
> this show has just passed, i doubt i can recall anything completely.
> i know they played a lot of material from the death of cool, but also
> most of strange free world. only a few songs from love is hell.
>
> kod were loud and shimmering. i remember having a chill during some
> songs trying to figure out how two guitarists could create so much
> noise. cajetans was a great venue that night.
>
> i look back at this show and it stands somewhere in the top 10 shows
> i've ever seen.

1993:
Suzanne Vega & Kitchens of Distinction Tour Dates:
Febuary 16 Coach House San Juan Capistrano, CA
17 Coach House San Juan Capistrano, CA
18 Wiltern Theatre Los Angeles, CA
20 Celebrity Theatre Phoenix, AZ
22 Montezuma Hall San Diego, CA
23 The Huntridge Las Vegas, NV
25 Kingsbury Hall Salt Lake, UT
26 Boulder Theater Boulder, CO
28 The Backroom Austin, TX

March 1 Deep Ellum Live Dallas, TX
2 New Eden Ballroom Fayettesville, AR
3 McAlister Auditorium New Orleans, LA
5 The Roxy Atlanta, GA
9 Kraushaar Auditorium Balitmore, MD
10 Fine Arts Center/U. of Mass Amherst, MA
11 The Academy New York, NY
15 Avalon Ballroom Boston, MA
?? Lisner Auditorium on the campus of George Washington University in Washington DC.

---
1994:
The Wherehouse, Derby, 04/10/94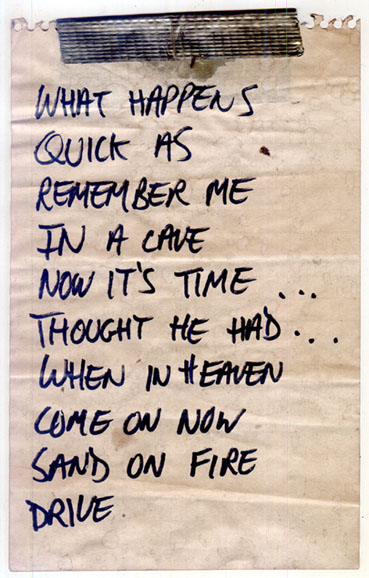 This setlist is in Patrick's own hand and was supplied to us by Adam Richards [Adam@roblang.demon.co.uk] who runs a great Drugstore site. Drugstore opened for KOD on a UK tour.
Adam says:
"The Derby one doesn't list an encore, but there was one. Patrick said from the stage, "We're meant to finish now, but we have time for one last song. We're going to the bar for a drink right now, but we'll be back - come and find us and tell us what you want us to play in a minute!" So I worked my way through the crowd and found Patrick; I asked him if they would play "Mad As Snow" and he said something like, "You know what? That's the best suggestion I've had; yeah, we'll do that one!" So after about 10mins they got back onstage and played "Mad As Snow".
---
1995:
KITCHENS OF DISTINCTION ARE FINALLY TOURING THE US TO SUPPORT "COWBOYS & ALIENS"

After Polygram delayed the US release of Cowboys & Aliens from October '94 to January '95 (promising maximum promotion after the "Christmas rush"), they have now virtually given up on supporting the album or Kitchens of Distinction.

Patrick, Dan and Julian have all been very anxious to return to America for a tour. Unfortunately they had to wait for the go ahead from Polygram and the tour support that a major label should provide. The tour was supposed to be rather extensive and happen after the LP came out (about February). But at long last it became apparent tour support would not be given by Polygram.

What all this means is that Kitchens have had to take their tour or the US into their own hands. They'll be hauling their own equipment, driving their own van and paying their own way.

They can't wait to be back playing here live again. So GO SEE THEM!! Here are the dates:

May 15 Washington DC 9:30 Club
17 New York City Tramps
18 Boston, MA Paradise
19 Hoboken, NJ Maxwell's
20 Philadelphia, PA Khyberpass
22 Cleveland, OH The Grog Shop
23 Pittsburgh, PA Rosebud
24 Roseville, MI The Ritz
25 Chicago, IL Double Door
26 Milwaukee, WI Unicorn
27 Minneapolis, MN Fine Line Music Cafe
30 Portland La Luna (supporting They Might Be Giants)
31 Seattle, WA RKCNDY

June 2 San Francisco, CA Great American Music Hall
3 Santa Barbara, CA Underground
5 Los Angeles, CA The Roxy
---
1996:
Flapper & Firkin, Birmingham, May 30th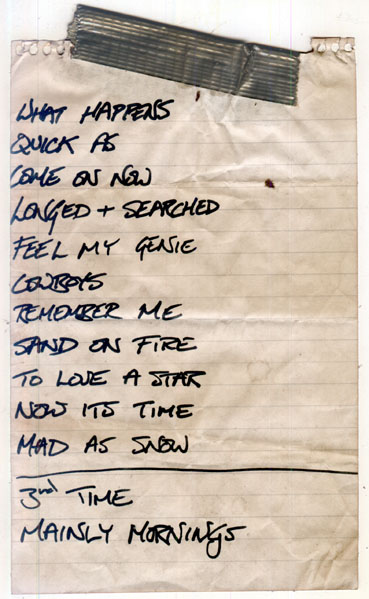 This setlist is in Patrick's own hand and was supplied to us by Adam Richards [Adam@roblang.demon.co.uk] who runs a great Drugstore site. Drugstore opened for KOD on a UK tour.
Adam notes:
The encore on the Birmingham '96 set list, "3rd Time" and "Mainly Mornings" was never performed, due to them running out of time. So the show ended with "Mad As Snow".
---
1997:
"Finally, on April 17th and 18th GLR asked me to stand in as presenter on their morning show normally hosted by Robert Elms. The studio guests included Jackie Leven, novellist Frank Ronan and studio bands COMET GAIN and FRUIT (new project by Patrick Fitzgerald from Kitchens of Distinction with David McAlmont)." (from "Tom Robison's 1997 Update")
---
1999:
The following is a March 19, 1999 review of Patrick's band, Lost Girls, from New Music Express. The original text is located here, but I've included it here for posterity.
Lost Girls: London Highbury Upstairs At The Garage
After nearly a decade of pretending not to care, Patrick Fitzgerald, finally, really doesn't. And he is happy. The former Kitchen Of Distinction and Fruit frontman positively beams as he strums through 'A Reason To Live', the best song his new band, Lost Girls, possess, his voice still fragile, still strangely reassuring.
For the most part, it's his partner in song, sometime 4AD folk artist Heidi Berry, who leads the Girls cautiously down avenues of detailed introspection and restrained drones. It's a courteous noise, yet wholly unpleasant, and one which, on songs like 'Needle's Eye', partially hides Berry's earnest full-moon yearnings. They're not lost at all; rather, the journey's just begun.
---
From larrybob@io.com on June 30, 1999
Event listing for Club V, which is at the Garage in London. I got sent this and thought it would be of interest to this newsgroup. - Larry-bob

****Club V Saturday 7th August. Summer Rites Party with Lost Girls + Lorca

Lost Girls is the new project of Patrick Fitzgerald (ex-Kitchens of Distinction/Fruit) and and 4AD's Heidi Berry, which Patrick describes as "Fairport Convention meets Television". Lorca are a band we've been after for a while - they'll be making a one-off appearance (possibly as a full band with cello and drums, but probably as a vocal guitar duo) before launching as a full band later this year. In a surprising twist of fate arranged by us, they feature ex Kitchens guitarist Julian Swales.