BIO : History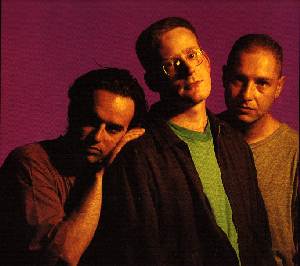 Left to right: Julian Swales, Patrick Fitzgerald, Dan Goodwin
from aerostace

Formed Amsterdam, The Netherlands, 1987
Cult band Kitchens of Distinction like to shroud their origins in multiple myths. Sometimes they say that they met in a Turkish sauna; sometimes in a satanist temple in Amsterdam; sometimes - most credibly - at a Dutch gig by the reggae legend Burning Spear. Drummer Dan Goodwin had been involved with East London experimentalists AR Kane; guitarist Julian Swales, had, it was said, been in an early incarnation of fluffy Goth types All About Eve. But singer and bass player Patrick Fitzgerald was not, as was often assumed, the punk poet of the same name: he had been a doctor before deciding to chance it in the world of pop.
The Kitchens' first single, "Last Gasp Death Shuffle", was Single of the Week in the NME. "Prize", which followed in October 1988 on One Little Indian (the label made trendy by the Sugarcubes), was a very fine single, a mixture of the tuneful jangliness that has been indie pop's staple since Orange Juice, and bigger, more ambitious noises that suggested both the Cocteau Twins and dub-reggae. But "Prize" was also one of the first explicitly gay guitar-pop records. Apart from the dabblings of Lou Reed and David Bowie in the early 70s, most openly gay pop had been disco - the Kitchens' candid reflections on queer promiscuity were at odds with the very basic boy-loses-girl agenda of most indie records.
Another cracking single, "The 3rd Time We Opened the Capsule" (1989) led on to the release of the debut album Love is Hell. It picked up good reviews with its mix of lush effects-saturated guitars and dubby rhythms - a harder, more emotional approach than the easily washed away waffles of AR Kane. The autumn's Elephantine EP impressed with it title track, and the anti-Thatcher "Margaret's Injection", plus the impressive reggae-rooted and vast sounding "Anvil Dub". Their live shows were fine too, their down-to-earth wit undercutting any cathedrals-of-sound tendencies in the music. Although they were never consensus music press favourites and were a long way from the Manchester lads who were starting to dominate the charts, it all seemed a matter of time before the Kitchens hit the big time.
Alas, the next single, "Quick as Rainbows", failed to turn them into popular heroes, and 1991's album, Strange Free World, despite providing another fab single in "Gorgeous Love", was somehow flat and lifeless. The Kitchens had become a very poor man's Psychedelic Furs. Even the distinctive, slightly kitsch packaging of their previous records had been dumped for a distinctly humour-free Japanese wave painting.
Still, the band played on, and although Britain had given up on them, America seemed more promising, with college radio play keeping them touring the US. Death of Cool (1992), however, was neither a commercial or qualitative advance on the last one, its title heavy-handed irony, as by this point the Kitchens could not have been further from the zeitgeist. After 1994's Cowboys and Aliens hit the bargain bins without a backward glance, One Little Indian decided that they had had enough and quietly dropped the band. Undeterred, the Kitchens picked themselves up, shortened their name to Kitchens O.D., and signed to the small Fierce Panda label, for one more push.
Mark Elliot
The Rough Guide to Rock

The Kitchens went onto release the single, "Feel My Genie", in 1996 which would claim a Melody Maker, 'Single of the Week' and although it's sleevenotes claimed the band still believed their time would, "eventually bastard well come", they would soon announce their decision to call it a day.
So remember who you once loved and that strictly no-one played keyboards.
Strange Free World indeed...
Stace
Frequently Asked Questions
Here are the real answers to some popular questions asked about the band...

Where did they first meet?
The rumours that the band met in a Turkish sauna, a satanist temple in Amsterdam or most credibly at a Dutch gig by the reggae legend Burning Spear were all lies that were told to make their story a little more interesting. Dan met Julian at College in 1980 and Julian met Patrick at a party circa 1985. It's as sad as that I'm afraid.
Where did the name, 'Kitchens of Distinction' come from?
Julian was a postman at the time and happened to see a kitchen advertisement on a large lorry. The band always wanted a different name, but following the release of the first single, "Last Gasp Death Shuffle" they were stuck with it!
Will the trio ever record together as Kitchens of Distinction or under a new name again?
According to Dan, it's unlikely. However, Patrick and Julian have been collaborating on re-working some of the later K.O.D. songs with a female vocalist. Dan says that the three of them have been through enough shit for one lifetime without the need to do it again. Fair enough I say.
Are there any plans to release a live album or unreleased material in the future?
They are unable to speak for their former record label, One Little Indian, but the band have no plans to release any further Kitchens material.
Was Julian really an original member of, 'All About Eve'?
When Julian first came to London he auditioned for several outfits including (members of) All About Eve and X-Mal Deutschland. He didn't hang around for very long!

Thanks to Dan Goodwin for helping out with this.
Stace