Many words have been used to describe Kitchens of Distinction: a lush, shimmering, swirling, dreamy wall of sound.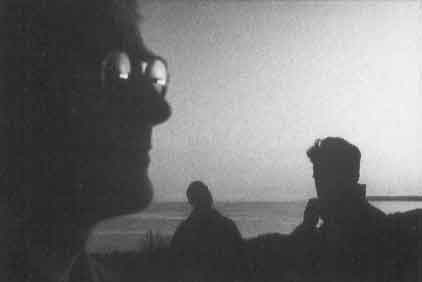 Too intelligent for mainstream radio, too clever for college stations.... Alas, they are gone, but the sounds of this trio live on. 
CAPSULE
The Best of KOD 1988-94

(released April 21, 2003)

is now available at Amazon.com - pick up a copy today! THe first 2,500 pressed contain a special 2nd CD of B-sides, acoustic, and demo versions.
Some of the content on this site is duplicated on other sites.  I've copied it and placed it here as a permanent repository for Kitchens fans.  So many sites disappear without a trace; I thought it would be best to gather what is available and and make sure it exists as long as the memories do.
Information on Patrick's new solo project Stephen Hero can be found here.

Tidbit:
March 23, 1964: Julian Swales born in Gwent, Wales.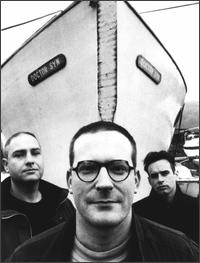 It's hard to see in this photo, but the name of ship is "Doctor Syn". Patrick was a doctor before starting out in the world of music.
"With ref to your K.O.D. site, I don't know if this is of interest to you, but I'm putting together a website on a no-longer existent community in S. London called Maybury St., which is where the Kitchens used to live, practise and played in public for the 1st time or 2. It's at: members.tripod.co.uk/mayburyst/ - Les Rowley"
Last updated: 04/09/06