| | |
| --- | --- |
| | Will's World |
The Wonderful World of William Raymond Carney
December 25, 2007 - I've posted my formal Christmas photos
December 9, 2007
Wow! What a year! I put a number of photo albums in this folder. Check them out!
J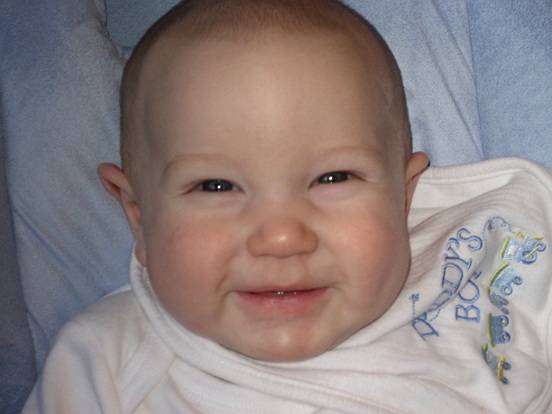 uly 22, 2007
I apologize for not posting anything for a while; I've been out traveling the world. I created a photo album with a few select images from spring 2007. As you'll see from the photos, I'm starting to look more like a toddler and less like a baby. I can roll around and move a bit now, but I can't quite crawl yet. I can scream, though! Nice, loud, ear piercing shouts that makes Dad grind his teeth.
I have conversations with Dad, but I'm not quite sure he understands what I'm trying to tell him..."change my diapers, dude!"

Spring 2007
May 13, 2007
Happy Mother's Day! My Grandmother Chris and Aunt Elizabeth come over and watched me for a while so that Mom and Dad could go get dinner together. I was so pleased about that I decided to holler at the top of my lungs most of the time they were gone.

April 16, 2007
Four month checkup. Four shots, OUCH! I am now 26 1/2 inches tall and weigh 17 lbs, 13 oz. I can start having rice cereal today, if I wish. We'll see how the whole spoon thing goes.
April 8, 2007
Today was an interesting day. I heard the Easter Story for the first time - good to know there is a purpose for my journey here - and a guy in a robe dunked me into a hottub. I didn't care for it that much. They call it "baptism", and my parents caught it on film courtesy of my Aunt Cat's fiance Scott. You can view it in Quicktime format or Windows Media format.
February 17, 2007
I have a cold, which is making me very cranky. For the last two weeks or so I've started to try to talk. I can smile and make cooing noises, which makes my Dad laugh at me, and in turn makes me smile and coo some more.
I can lift my head now. Sort of.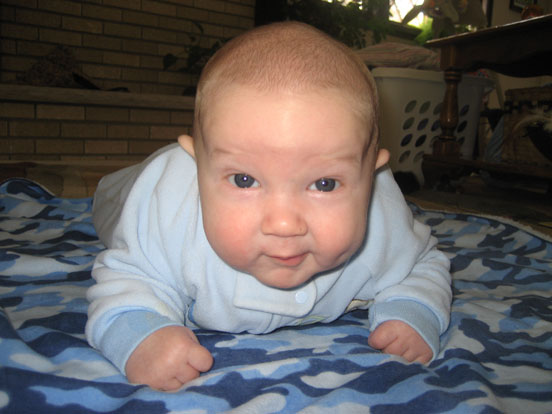 February 14, 2007

Happy Valentine's Day! Don't be a schmuck like my dad and forget!
February 8, 2007
Went to the doctor for my 2 month exam. She told me I should stop smoking and drinking so much, and maybe exercise a bit more. So I threw my pack of Camels at her and ran away. Maybe I should find a new doctor.
Anyhow, I'm just shy of 25 inches tall, and weigh 14 pounds, 13 ounces.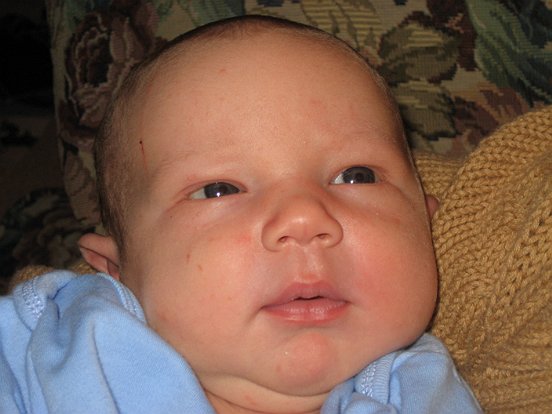 January 8, 2007
Thank you everyone for the calls and emails. Please forgive me for not returning your calls, as I cannot speak yet. As for your letters and emails, I'm still working on my opposable thumb skills, so give me a few more years.
I can manage to scratch my own forehead, as you can see in the photo.

I have a few more photo albums online, with notes below. Just click your browser's Back button to come back to this page when you're done.

-Will
January 4, 2007 - Catch the old man sleeping while holding me.
January 1, 2007 - Happy New Years! Time just flies. The last year felt like just 22 days.
December 31, 2006 - New Years Eve, with my bottle. No, it's not spiked with rum, I have to wait 21 years for that.
December 27, 2006 - Dad won't put the camera away, so someone took it from him and took pics of him as punishment. A nice pic of me and my paternal grandmother in here as well.
December 25, 2006 - Christmas at my maternal grandparents place.
December 24, 2006 - Christmas Eve at the Carney household. I, of course, am front and center, but I let them take a photo of me and my aunt Michelle.
December 20, 2006 - More pics. I should charge a fee.
December 18, 2006 - Ten days old, ten days closer to retirement. This is my "blue" period, as you can tell by the way I dress.
December 16, 2006 - Back from the Hospital. I have to sleep on this green lamp to get rid of this jaundice, so dad's started calling me "Glowworm".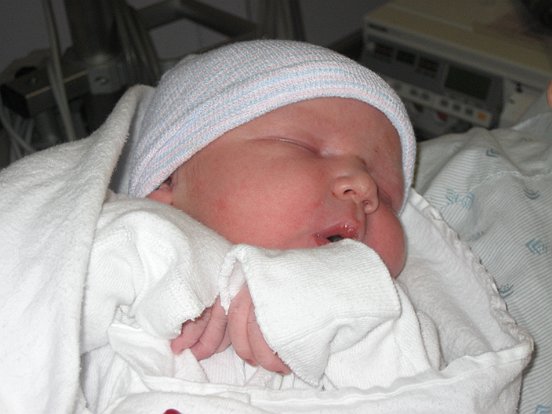 December 8, 2006
Hello folks. Allow me to introduce myself. My name is William Raymond Carney, and I was born today...which I figured was a good enough reason for starting this blog.
Mom's water broke at 3:00 AM, so we all hopped into the car and took a trip to Sparrow Hospital in Lansing. At 9:00 AM the doctor cut a small hole in Mommy's tummy, and tugged me out at 9:14 AM. I wasn't particularly enthusiastic about leaving, so the doctor had to reach in and pull me out, legs and butt first.
I weighed 10 lbs., 9 oz. at birth. Mom's glad I came out via C-section; my head is 15" around. And I'm 22" tall, if I were able to stand that is.
Here are a couple of pics from my first day in this place.
Will